Laminate for underfloor heating TERM 2 + AL PETis made as a combination of two materials.
One Extruded material is expanded and of low density polyethylene, 2mm, U gustini 22kg / m³. This layer performs the functions of:
thermal insulation between the floor element (concrete slabs / screed, ester / laminate)
sound insulation of floors.
The second layer is aluminized PET foil, which has reflective properties, so it is also used with these properties in underfloor heating systems, in order to improve the thermal insulation of the hotplate (screed) in relation to the supporting structure of the building.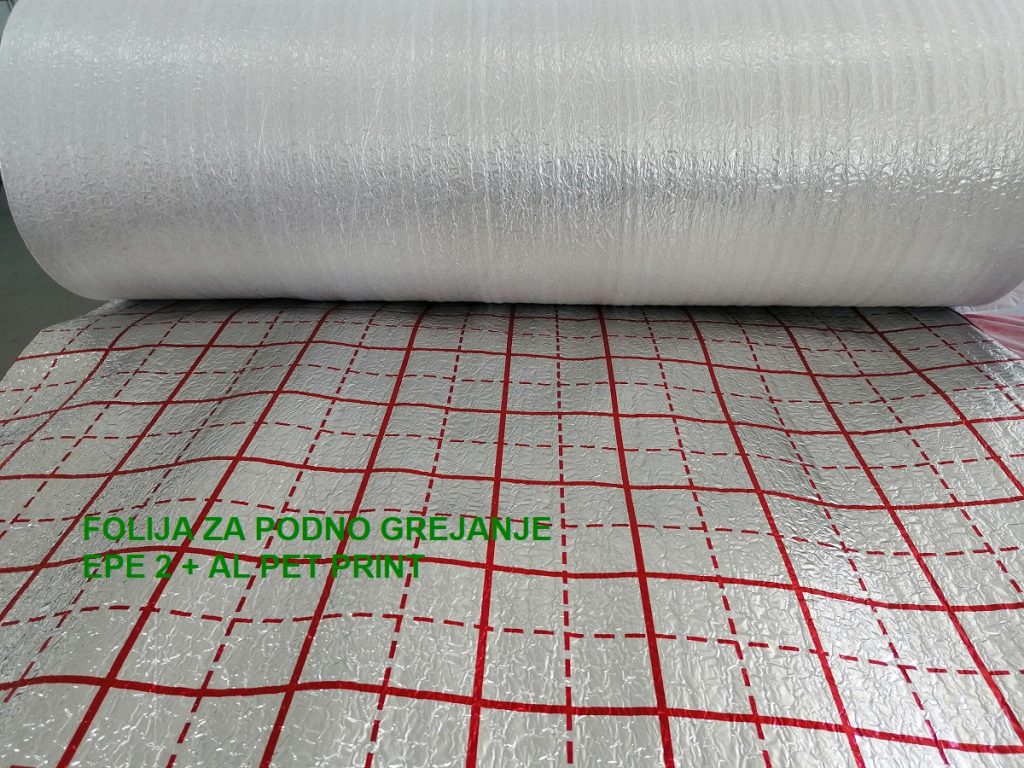 floor foil EPE 2+ AL Pet you used in floor heating, hot water in the following way:
on concrete slab supporting structure object foil for floor heating TERM 2+ AL Pet is placed over the entire surface of the floor, taking into account that between the set of layers there is no free space, through which liquid can leak screed. Floor Foil EPE 2+ AL Pet is provided so that the aluminized layer facing upwards, ie. Prema screed.
the volume of the room, which raises the underfloor heating, placed dilatation tape extudiranog and expandiranog low density polyethylene. Dilatation strip can be thick 5 ili 10mm, height 10cm. This is especially important to note that the edging strip and foil for floor heating TERM 2 + AL PET must be placed so that liquid screed can not leak out and achieve solid contact with the support structure of the object.
After the set film strip, It puts the system hot-water pipe and outfall screed.
Thus Asked system Foil Tape +, ensure that the cast screed, when mature and become a solid concrete slab, be thermally insulated from the support structure as the object (floor and wall), However, so heat is directed to the above, ie. According to a room heated.
Laminate for underfloor heating TERM 2 + AL PETthermal insulating and should not be used in floor heating between the heating plates (screed) and wooden floating floors (laminated, parquet). If the screed is not soleplate, Laminate for underfloor heating TERM 2 + AL PETcan be used as a foil under floating wood floors (laminat, parquet).